---
High Country Disc Golf Course
Posted On Friday, July 5, 2019
---
High Country Disc Course
The High Country Disc Course is a highly rated course located in the beautiful and scenic Appalachian Mountains at Ashe County Park. The local Disc Golf Club reviews the course as "an extremely cool disc golf experience that offers a little bit of everything. It's both FUN and challenging for all skill levels with hills and thrills, nice views, water hazards and OB's." Course Map and Photos
There are concrete and/or platform rubber deck TEE PADS on every hole!

There are actually 20 holes (w/ alternative 8 and 9, "the short loop"), and a practice basket.
The course kiosk and directional signs/arrows should help you easily find your way around. Scorecards can be printed out online at the sites homepage or at the links below. They are also located in the mailbox at the course, but may be out due to frequent course usage (please take only one).
Full Color Card (PDF)
Tri-fold Tournament Card (PDF)
The course offers both Pro (blue) and Amateur (white) tee pads on every hole.
• Total Par from the Pro (blue) tees is 61.
• Total Par from the Amateur (white) tees is 57.
Please refer to scorecard for distances and course layout/map!
**Note** There are two baskets on holes 8, 11 and 17! Pro (blue) tees play to Carolina blue baskets, and Amateur (white) tees play to original yellow baskets. Also, there are no tee signs on the Pro (blue) tees, but there are signs on the Amateur (white) tees.
Try to stay on the provided trails and be respectful of this multi-use park by properly disposing of garbage and being conscious of other park users. It is recommended that you wear good shoes as this is a mountain course and the hike can be pretty strenuous and demanding.

BE SAFE and ENJOY THE ROUND!

Course contact: Ashe Co. Parks and Rec, (336) 982-6185
Course est. May 2006 Designed by: Harold Duvall Course promoted by: Todd Patoprsty Built by: Very Few Special Thanks to: Innova Disc Golf, Ashe Co.Parks and Rec. Dept., Joe Boccardy, Daniel Quin, Rita Privette, Wendy Patoprsty, Todd Lion, and all our sponsors and supporters!

More information can be found at the High Country Disc Golf Club website or the PDGA website.
Enjoy the course during your stay at a luxury Mountain or New River cabin rental in Ashe County, NC with 4 Seasons Vacation Rentals & Sales. Check out our website for more info or call (336) 246 -2700.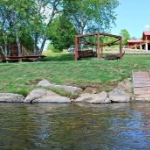 New River Retreat - Lodge & Special Events
Sleeps 12 - 6 br/ 6.5 ba- TVs - Indoor & Outdoor Entertainment - Firepit - River & Mountain Views - WiFi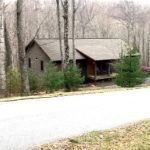 Carolina Dream
Sleeps 12 - 4 br/ 3 ba - Gas Fireplace - Firepit - TVs - Game Tables - Central A/C - WiFi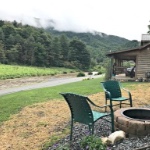 Modern Nest
Sleeps 6 - 2 br/ 2 ba - Game Table - Firepit - RiverFront - Tubes - TVs - WiFi - Pets
Comment on this post!