---
Gem Mining
Posted On Wednesday, May 19, 2021
---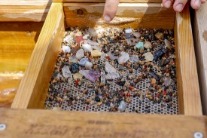 Gem Mining
Mine for real gems in the region known for underground treasure. The mountains of western North Carolina are famous for turning up emeralds, garnets, sapphires, and more. Now, the entire family can have a hand in discovering what will be one of their most memorable finds and prized possessions. Some mines also offer a cutting service for gems you find.
FIND MORE INFO: ExploreBoone.com
Comment on this post!