---
Gallery Crawl - Downtown West Jefferson - Fri. July 13th, 5-8pm
Posted On Friday, July 13, 2018
---
Downtown west jefferson gallery crawl
Today, Friday July 13th, 5-8pm

On Friday, July 13 from 5pm to 8pm, the " arts district" of downtown West Jefferson will come alive with folks strolling the streets. Gallery Crawl is back! For the June crawl there will be new exhibits, special artists, refreshments, and in-store promotions.

The purpose of the crawls are to support and promote downtown West Jefferson businesses. Crawlers will have an opportunity to see new, creative and innovative works by Ashe County's leading artists. Crawlers are invited to stroll the streets, visit the galleries, view the downtown murals, enjoy the many outdoor art pieces and take advantage of the downtown restaurants.
West Jefferson has an eclectic group of shops, galleries and studios representing a large and varied group of artists who will be displaying their latest creations. Participating in the crawl will be: Acorn Gallery, Ashe Arts Center, Ashe Custom Framing and Gallery, Backstreet Beads and Handcrafted Jewelry, Bohemia Gallery, Catchlight Gallery, Florence Thomas Art School, Great Southern Gothic, Originals Only Gallery, Quilt Square Girls, RT Morgan Gallery and Glass by Camille, Stephen Shoemaker Studio and Gallery and The Vintage Locket.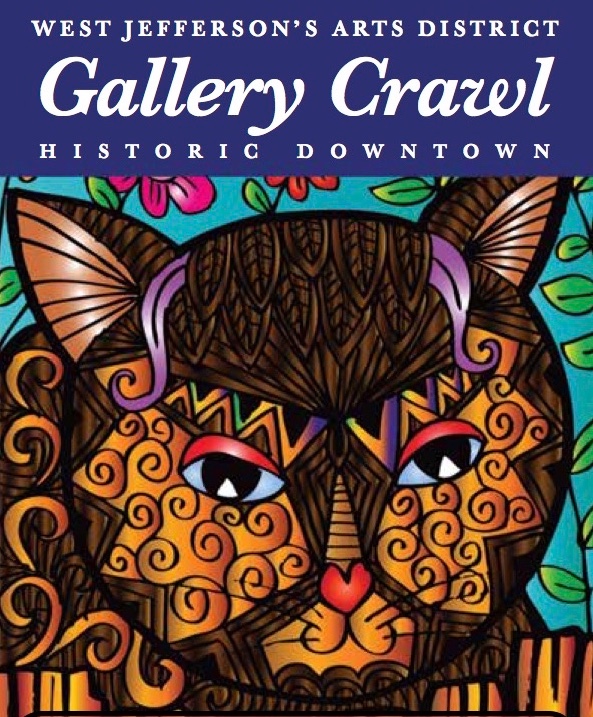 Gallery Crawls will take place the second Friday of each month. Mark August 10, September 14 and October 12 on your calendars. There will be a special Christmas Crawl on Friday, November 30.

Experience the arts in West Jefferson! Admission to Gallery Crawl is free and is sponsored by the Ashe County Arts Council in cooperation with the West Jefferson Business Association and the West Jefferson TDA. Maps will be available at the Ashe Arts Center in West Jefferson and at other participating galleries and shops.
Article from West Jefferson, NC Facebook.
For maps and more information, all (336) 846-2787 or VISIT WEBSITE.
Comment on this post!